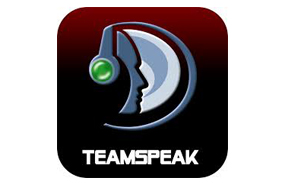 TeamSpeak 3
TeamSpeak is a great voice server because not only does it have its own dedicated app, but at the same time it works seamlessly with a wide range of games. It's nicely designed, has a great interface and has lots of options for customizing it as you see fit. TeamSpeak3 is seen as one of the most popular pieces of software across the gaming industry and is used worldwide both for recreational and professional gaming making it hard to fault in a competitive market.
TeamSpeak is a VoIP solution that makes it easy for groups of people to join an online audio conversation with each other thats perfect for in game chat. Some games don't come with an in game live chat (both text bast and through a microphone) so gamers resort to renting TeamSpeak servers to solve this problem.
To host a TeamSpeak server you need a continuously running machine with a good connection to the internet for everyone to join in. Renting a TeamSpeak server is a cheap way to take away the hosting responsibility from a member of the group as well as ensure a stable connection is constantly established. Usually TeamSpeak servers are in the dollars per month area and very cost effective.